07-01-03.Create announcement by group
You can create an announcement for a certain group by using "Restrict access" and "Common module settings"
Note

You need to create group beforehand.
Refer to:
How to create group-based announcements using "Restrict access"
You can set restrict access when creating notifications to create notifications that can only be viewed by the target group members.
Announcement on student's screen
How to create a topic for each group in an announcement
When adding a topic to an announcement, you can select a group and create a topic that can only be viewed by members of the target group.
Start course editing mode.
Click on "Edit" in Announcements and select "Duplicate".
Click "Edit" on the duplicated announcement and select "Edit Settings".
Select "Separate groups" from the group mode in "Common module settings", and click [Save and display].
After viewing, click [Add a new discussion]. Enter the title and the content of the announcement, and select the group you want to publish the announcement from "Group" at the bottom right.

memo

If you check the "Post a copy to all groups" checkbox, the same topic will be posted to all groups in the course (essentially the same as a topic addressed to everyone).

Click [Submit] to add the topic. Under the teacher's name, you will see which group the announcement is addressed to.
Announcement on student's screen
You will only see topics that are addressed to your group and everyone in it. You will not be able to see topics that are addressed to other groups.
*The following figure shows an example of a student belonging to Group A.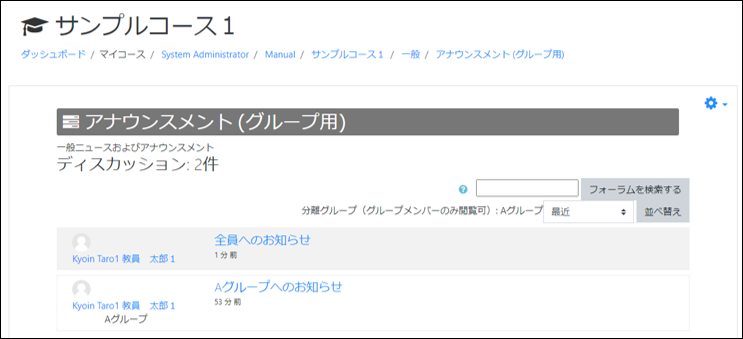 Last Updated on 2021-03-30