13-01.Attendance
Overview
This is the attendance management function. You can also set students to register their own attendance. A list of course attendees can also be downloaded in Excel format.
memo

The following two steps are required to use the "Attendance" function.
1.Create Attendance (as an activity)
2.Add session.
The procedure for editing "Attendance" is described below.
Start course editing mode.
Click [Add an activity or resource]. Choose [10_Attendance] and click [Add].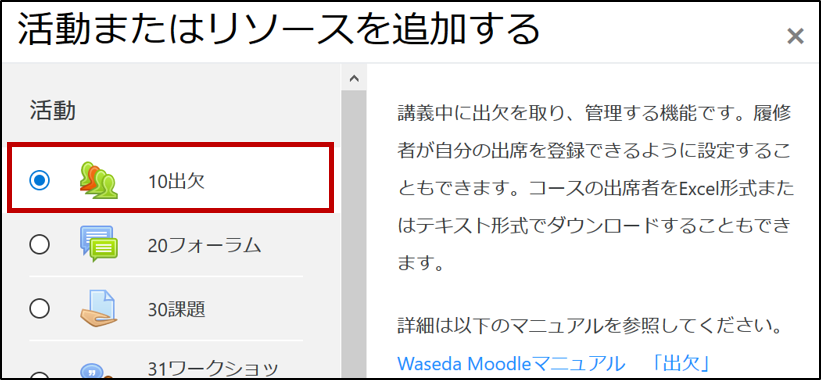 There is "10_Attendance" entered in "Name." If you want to change the name, do so here.。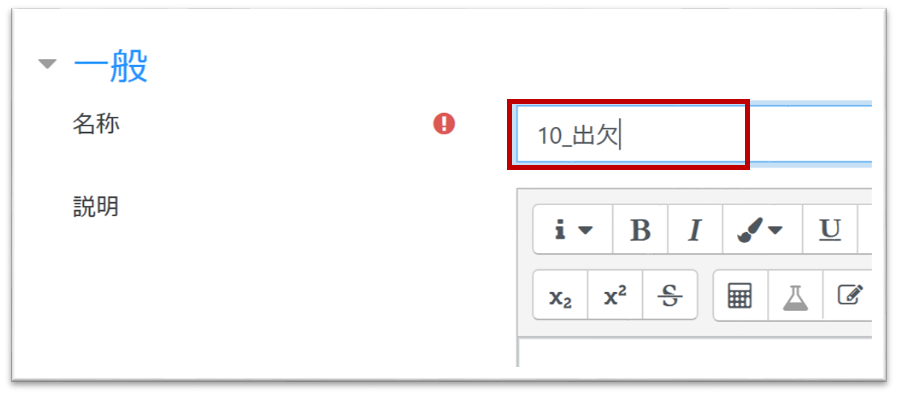 Set "Date." Set a date for the first session. If you want to set multiple sessions, it will be set in the next step.

With "Time," set starting time and ending time.

memo "Time" can only be set up to a maximum of 24 hours. (It cannot cross days.)

Set Multiple sessions. Check [Repeat the session above as follows]. Set the days of the week for the class to meet, frequency such as every week or every other week, and the last day of the class.


Set Student recording. Check [Allow students to record own attendance] if it's applicable

With "Student password," you set password for the students' attendance. If [Random password] is checked, the password will be automatically created. If unchecked, you can set your desired password. If empty, no password is required for the attendance.

If [Include QR code] is checked, QR code will be created.

Note

If "Automatic marking" is set as [Yes], students will be automatically marked when they access to the course. To execute "Automatic marking,"following conditions are required due to program startup.
Set the session time to be 30 minutes or more.
"Status set" is required. For "Available for students (minutes)" in "Present," set a value within "session time – (minus) 20 minutes."
Even if a student is in the course before the session start time, the program will not be started and automatic marking will not be done. Please inform students to login after session start time or reload (page update) the page by themselves.
Refer to:


It is possible to record attendance only when connected to the campus wireless LAN (IP address restriction).
In [Default network address], input IP address shown in the description of "help button (question mark)."


Click [Add]. Now the session is added. With [Key] icon, you can check the password set.

11. Password for the session is displayed. IF you set a QR code, the QR code will also displayed.

Name
Attendance
Overview
Attendance management function. You can also set students to register their own attendance. A list of course attendees can be downloaded in Excel or text format.

Icon
Setting items
■General
Name
Name of attendance
Example) Attendance
Description
Description for attendance.
Function
Add session
Set session start date and time. The roll call method can be set to automatic or manual and can be set to enter a password before attendance.
Report
You can check the attendance status of the users and send a message to users.
Export
User attendance data can be downloaded in Excel or text format.
Status set
Set the status to be used depending on the timing of attendance, such as whether the attendance is on time. A score can be set for each status.
Temporary user
You can create temporary users. By integrating with the participant users, the attendance record of the participant user is overwritten.
Last Updated on 2021-03-30